Greetings Beloved!



October was LGBTQ+ History Month and June was the 50th anniversary of the Stonewall riots. While 50 years of Pride has given us much to celebrate, this Fall edition of UPLIFT proves there is so much more work for all us to do. Just as Unitarian Universalism has been a welcoming faith for generations, we trust that our principles of love, justice, and peace will gird us for this work of dignity, liberation, and equity in the generations to come.

In this Fall

UPLIFT

we hope to connect you to the needs of our queer and trans communities in and beyond Unitarian Universalism. We hope to call you to

Side With Love

against hate as we grieve, consider, and celebrate how our queer Unitarian Universalist faith has and will sustain as we:


Worship, celebrate, and educate LGBTQ+ welcome and inclusion in our congregations and communities.

Reimagine an

equitable and more gender-just Unitarian Universalism that centers trans and non-binary identity and perspective.

Organize to ensure that we do everything we can so that our friends, neighbors, cities, and towns #VoteLove in 2020 and beyond.

Resist the over-policing of people of color, queer folks, and immigrants, whom the state discarded as a "danger to society."

And so much more...
May your heart, mind, and spirit be UPLIFT-ed and moved into action as you reflect on the hopes, joys, and concerns of LGBTQ+++ people in and beyond Unitarian Universalism.
Rev. Michael J. Crumpler
(He/Him/His)
LGBTQ and Multicultural Programs Director
Multicultural Growth and Witness
"It took many years of vomiting up the filth I was taught about myself and halfway believed before I could walk around this earth like I had a right to be here."

- James Baldwin
Jade is Back!




After acting as LGBTQ+ Ministries Intern in 2018, I'm happy to rejoin the UUA  in an expanded capacity as the Clara Barton Gender Justice Fellow, funded by the Unitarian Universalist Women's Federation.

My goal is to evolve gender justice with Unitarian Universalism. I am nonbinary, and I believe that trans issues need to be at the center of this next step of Unitarian Universalist gender justice.

- Jade Sylvan (they/them)



SIDE WITH LOVE AGAINST HATE:
A Post-Straight Pride Reflection

This summer a parade was held in Boston for "Straight Pride." The parade organizers were a group named Super Happy Fun America. City Hall issued permits in June according to Mayor Marty Walsh, "based on operational feasibility, not based on values or endorsement of beliefs." The Boston Pride Committee named the parade organizers as a group of white supremacists and encouraged alternate programming to reaffirm LGBTQ Pride.

The parade attracted national coverage from USA Today, CNN, and Huffington Post. The Boston Globe estimated that there were 200 marchers in the parade and 600 counter-protestors at the end of the parade route near Government Center.



READ HERE

to learn more about Straight Pride and how activists were mistreated by police and city officials.
UU's rallied with communities of faith, activists, and organizers on the steps of the U.S. Supreme Court as justices heard oral arguments on whether to take away existing employment protections for LGBTQ+ Americans in the following cases:
READ HERE

to learn what's at stake for LGBTQ employment rights and how you can be helpful.
This fall dozens of people stood outside ICE, taking shifts in the weeklong encampment demanding

Wayzaro "Tazz" Walton's

release.  

Dozens of people stayed overnight through rain and windstorms, and were overwhelmed by food and warm drinks over 7 days – because we know that none of us are free until all of us are free. Because we know that Tazz will be free.


Tazz has been granted stay after stay, due to the support of Tamika (Tazz's wife), the Hartford Deportation Defense, and the wider community.  Otherwise, Tazz would have been deported to a country she hasn't known since she was three.

Yet, Tazz is still in a cage, separated from her family and community and under threat of deportation for no good reason.   



READ HERE

to help #FREETAZZ and learn how you can support her and her family.
Welcoming Congregations:

The Five Practices of Welcome Renewal
Celebrate Bisexuality Day


If you're bi, IT'S YOUR DAY! Celebrate yourself! Celebrate "and" instead of "or!"  

If you're not bi, celebrate the bisexuals in your life! Let them know you see them in all their fullness.

Read the full blessing on Uplift
Celebrate National Coming Out Day


If you are out, we celebrate you.
If you are coming out, we celebrate you.
If your journey looks different from that narrative, we celebrate you, yourself, as you are.

Blessed are the queer! All of us.



Read the full blessing on Uplift

Celebrate Intersex Awareness Day

May you know your body as home.


Each curve, each angle,

each organ, each chromosome.

...

Your body is its own wisdom,

whole and holy, blessed and beautiful.



21 transgender and non-binary people have been killed by in 2019.
Most of whom are Black trans women.

We mourn their loss.
We remember their beauty.
We resist the hate that killed them.
To learn their names and read their stories visit:
Special thanks to

Rev. Jennifer L. Brower,

Stephen Michael Smith, Susan Roberts, and all who made the service special.
| | |
| --- | --- |
| to attend November and December orientation sessions. | Five Practices of Welcome Renewal |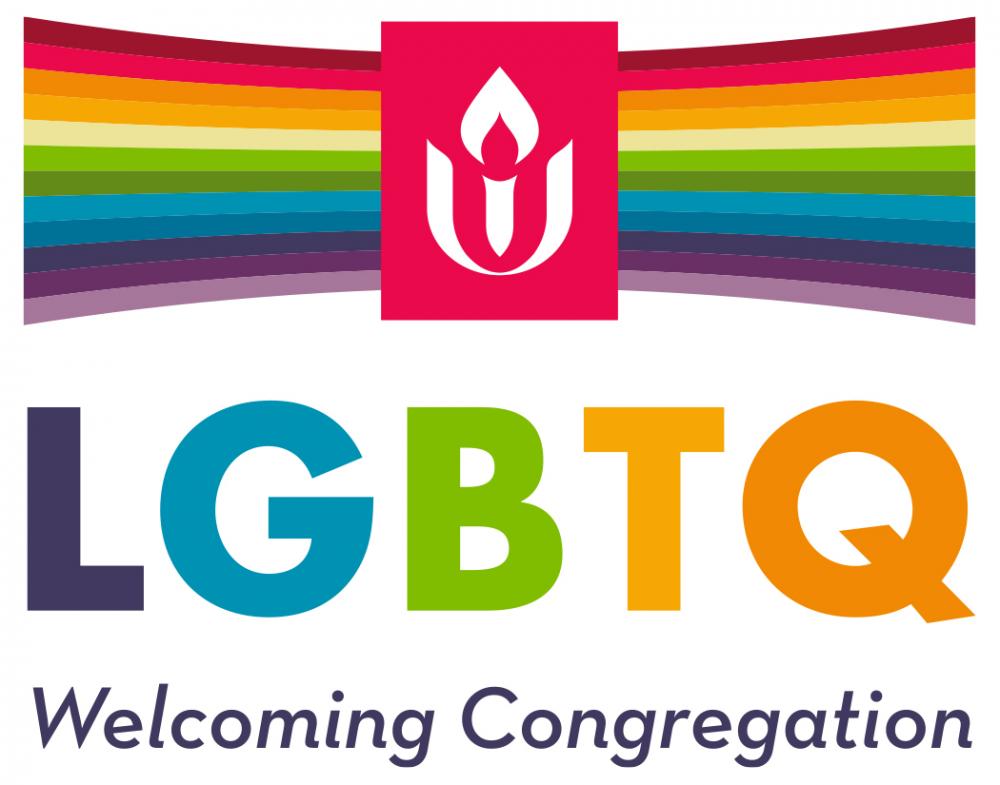 CONGRATULATIONS New Welcoming and Renewed Congregations!
New Welcoming
First Parish Church in Taunton - Taunton, MA
First Parish Universalist Church - Stoughton, MA
UU Church of Cortland - Cortland, NY
Prairie Circle Unitarian Universalist Congregation - Grayslake, IL
Red River Unitarian Universalist Church - Denison, TX
Renewed Welcoming
First UU Church Berks County, Reading, PA
UU Church of Sarasota, Sarasota, FL


Quimper UU Fellowship, Port Townsend, WA




West Hills UU Fellowship,

Portland, OR
Five Practices of Welcome Renewal Congregations
Unitarian Universalist Church of Urbana-Champaign - Urbana, IL




First Unitarian Society of Chicago - Chicago, IL




First Unitarian Universalist Church of San Antonio - San Antonio, TX




Minnesota Valley Unitarian Universalist Fellowship - Bloomington, MN




Tennessee Valley Unitarian Universalist Church - Knoxville, TX




Unitarian Universalist Fellowship of Durango

- Durango, CO
Gender Justice in Unitarian Universalism
As Jade begins their work toward re-visioning the possibilities of Unitarian Universalist Gender Justice,
they want to talk to you
! What are your experiences of gender justice in Unitarian Universalism? How does it look in our spaces, congregations, and relationships? What about it is sacred to you? What about it is harmful? What are your dreams of what it can become?
Sign up for Gender Justice Conversations here

.
For the past three years,

Black Lives of Unitarian Universalism

has called on Unitarian Universalists to show up and support the annual

Black Mama's Bailout

(#FreeBlackMamas) organized by the National Bailout Collective. Those who are interested in supporting this campaign in April and May, 2020, are urged to sign up for BLUU's

End Money Bail Community Workbook

, which provides seven modules to prepare your groups, congregations, or committees to

support #FreeBlackMamas

when the time arrives.
Reproductive rights are being threatened in Louisiana

. This term, SCOTUS will consider June Medical Services v. Gee, a case that aims to restrict abortion access in Louisiana. June Medical v. Gee could leave the state with only one clinic capable of legally performing abortions. We are currently monitoring this case to see how Unitarian Universalists can best support the reproductive rights of people in Louisiana. In the meantime, you can
read the background of the case
.
Are You Ready to UU the Vote in 2020?
#UUtheVote: Sign up & tell us what you need!

The UUA's Organizing Strategy Team is developing a plan to support all of us as we #UUtheVote in 2020. UUs have deep history working for justice in the streets and on the ballot, and in partnership with people of all backgrounds as we fight for our democracy.

This year, our values and our principles are more needed than ever before and we're wanting to make sure we do all we can so that our friends, neighbors, cities, and towns #votelove.



Your responses will ensure that we put our efforts in the best places with the best focus possible. The sooner you can get back to us, the sooner we can get back to you with next steps in this

historic campaign

.
It's the Best Lil Queer Conference In Texas!
...or Anywhere!

Join thousands of LGBTQ and allied activists will gather in Dallas, Texas for the 32nd

Creating Change Conference

from Wednesday, January 15 through Sunday, January 19, 2020 at the Sheraton Dallas.



The primary goal of the Creating Change Conference is to build the LGBTQ movement's political power from the ground up to secure our overarching goal of full freedom, justice, and equality for lesbian, gay, bisexual, transgender, and queer people in the United States.


#StonewallOutLoud: Help Record the Stories of a Generation of LGBTQ People
Help us preserve the stories of LGBTQ elders before they are lost to history.
To honor the 50th anniversary of the Stonewall riots, StoryCorps is asking people across the country to pick up their mobile devices and use the StoryCorps App to record the stories of people within the LGBTQ community who were born before the Stonewall Riots. Each of these interviews will become a permanent part of American history at the American Folklife Center in the Library of Congress.
Who can participate? Everyone! Make plans to interview an elder and/or another member of the LGBTQ community.

PLEDGE TO RECORD TODAY!!!!
Support
#
BlackTransPrayerBook

The #BlackTransPrayerBook is an interfaith, multi-dimensional, artistic and theological work that collects the stories, poems, prayers, meditation, spells, and incantations of Black TGNC contributors.


Please join i
n funding

this incredible work and the divine process that centers Black Trans People and celebrates their history and contributions to communities of faith.
Transgenders Religious Professional Unitarian Universalists Together (TRUUsT) envisions a spiritual awakening that transforms Unitarian Universalism through worship, pastoral care, theology, education, and community to the end that trans religious professionals and their ministries are thriving, and a new culture of solidarity and common purpose among Unitarian Universalists committed to countering intersecting oppressions is flourishing.
Support UUA LGBTQ+ Ministries
Each of us has worth and dignity, and that worth includes our gender and our sexuality.

As Unitarian Universalists we not only open our doors to people of all sexual orientations and gender identities, we value diversity of sexuality and gender and see it as a spiritual gift.
Your support

helps keep our LGBTQ Justice and Public Witness work active and vibrant, as well as deepening our Welcoming Congregations program.

| | |
| --- | --- |
| | sent to: mcrumpler@uua.org |