| | |
| --- | --- |
| News and updates from the Central East Region of the UUA to keep your congregation informed. | Email not displaying correctly? |
Opportunities for Connection


CER Update
~ April 2021
| | |
| --- | --- |
| | Featured Resource: UUA Job Board |
Does your congregation have a staff position you want to advertise - like a religious educator, musician, administrator, bookkeeper, social media coordinator? Are you looking for a job in Unitarian Universalism?

The

UUA Jobs Board

exists to connect those who are hiring and those who are looking for jobs. Once just the ministry search board, this website is now open to everyone. Those interested in being hired can search by region, state, size of congregation and type of position. Congregations can submit their requests to have an item posted by

filling out this form

.

But wait, there's more!

Are you intrigued by the possibilities of sharing staff? Wondering how you might connect with a congregation that is offering or seeking staff? Browse our

Congregational Collaboration Board

, a new section of the UUA Jobs Board.
To view basic information, no login is required. Create a MinistrySearch login to gain access to the contact information that accompanies the listings. When logged in, key congregational leaders can post new listings. You can post positions you are interested in collaborating to create OR you can post about staff who work part-time for you that you would be willing to share, which would allow for a better wage and benefits to become possible. Help us build up this new offering! See the

Sharing Staff

page in

LeaderLab

for more on expanding work opportunities and enhancing programs through collaborative staffing.
Virtual General Assembly 2021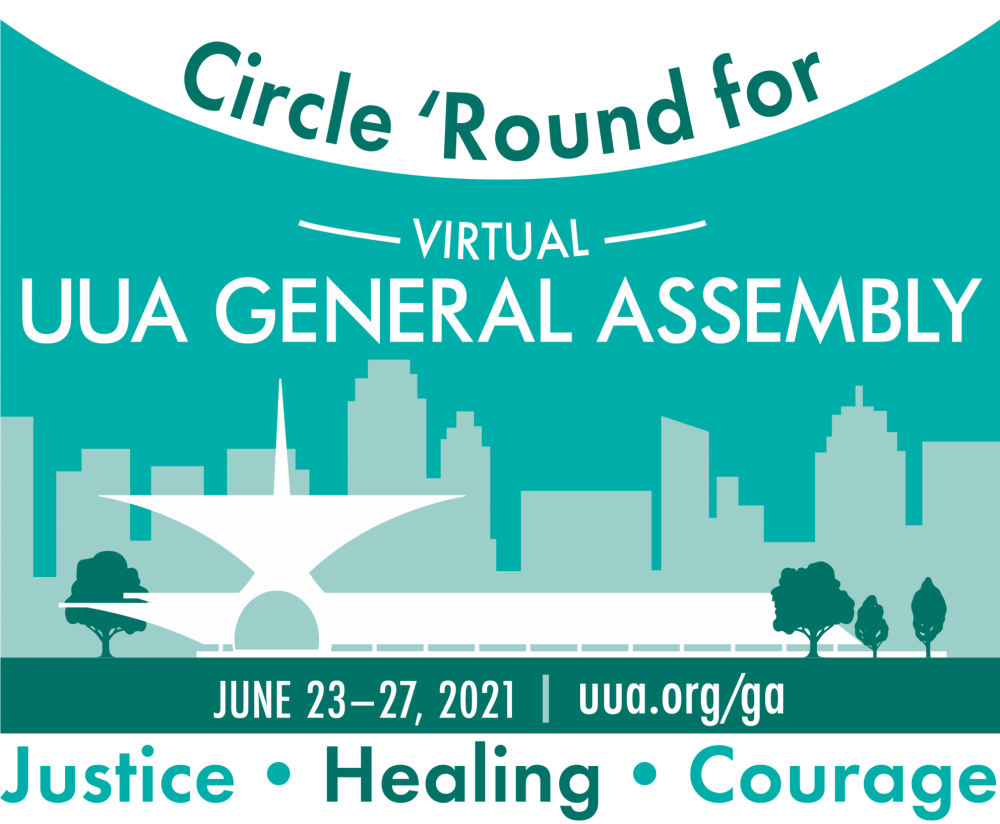 Just announced -

Recognizing the importance of shared ministry and the many innovative approaches to worship created by congregations during the pandemic, UUA President, Rev. Dr. Susan Frederick-Gray, selected the

First Universalist Church of Minneapolis

to serve as worship leaders for this year's GA Sunday Morning Service. Music will be offered through collaboration with 2021 GA Choir Director Susan Mashiyama, the GA virtual choir, and musicians from First Universalist.

The service will take place on Sunday, June 27 at noon ET.



If you want to be a part of the GA virtual choir,

registration is now open

. and rehearsals begin on April 19.


If you haven't registered for Virtual GA 2021 already, there is no better time than right now! O
nly registered attendees will have access to the
NEW!
GA app. So register early to join online discussions, familiarize yourself with the GA schedule, and find your place in our community of communities.
Cost is $200 and financial aid and volunteer positions to help defray the cost are available. Registration and details at the

UUA GA Website



Your generous donations to the UUA's Disaster Relief Fund have been put to meaningful use meeting critical needs of UUs and their local partners recovering from severe winter storms in Texas. Thank you to all those who contributed.
The Disaster Relief Fund exists to support UUs and their communities when they are facing serious and unexpected hardship. As we know these events cannot be predicted well, and looking to the upcoming hurricane season, we hope you'll continue to support this fund as a concrete expression of our covenant with one another. Please donate at the
UUA website
.
Upcoming Events - So Many to Choose From!
New Day Rising Resources

- Did you miss the New Day Rising training in February? More than 1200 participants shared and learned about ways to work against white supremacy culture during this day long event. You can access all the workshop recordings and resources at the

UU Leadership Institute

. Cost is $30. You will need to create an account on the site to access the files.



Small Congregation Sharing Series

- The last webinar of the Small Congregation Sharing Series on

Sharing Youth Programming in Smaller Congregations

will be offered April 22, 2021 at 7p ET/6p CT/5p MT/4p PT. Registration is open! Join Shannon Harper and Eric Bliss to learn about ways to enhance your youth programming by joining with other congregations. Registration is open. If you missed the first two webinars on Worship and Staff Sharing, you can find recordings of both of them in the

UUA LeaderLab Library

.



Breaking Covenant: Repair, Restore, Renew, A Workshop.

Every congregation has experienced destructive behavior that has caused upset, tumult, and conflict, from microaggressions to outright aggression, and other forms of inappropriate behavior. In the process, covenant is broken, even when the covenant might not be explicitly stated. The impact of the behavior can baffle leaders, and congregations often don't know how to repair, restore or renew their community. It is therefore important that every congregation recognize that the holy space between each of us is everyone's responsibility to grow and maintain and when it's broken between any people it's broken between us all. We need to have policies and procedures in place to deal with destructive behavior. Congregational Life is offering a workshop on April 10 on Breaking Covenant. Learn more at the

UUA website

.



CER Summer Institute

- July 11-17, 2021.

Food for Your Soul!

  Online content will be live and recorded to watch on your schedule by using the Whova app recently used with New Day Rising. The schedule is shaping up to include morning worship, small group interactions, time to meet new people and see old friends. We will have a sample of 2022's Theme Speaker Kazim Ali poetry and talks, Hal Walker and friends in concerts, RE and Youth Programing. Registration opens on April 15th. Details at the

CERSI website

.

Virtual UUMAC

- UU Mid-Atlantic Community will gather July 11-31 online. The theme speaker will be Paula Cole Jones speaking on Community of Communities. Learn more at the

UUMAC website

.
UUA Board Open Houses on Zoom
Co-moderators Meg Riley and Charles Du Mond invite you to come and check in with the UUA Board of Trustees at its upcoming Zoom Open House. Bring your questions and chat about:

what the Board has planned leading up to General Assembly

General Assembly 2021

serving Unitarian Universalism as a volunteer at the national level

the progress of the Article II Study Commission

your congregation's engagement with Widening the Circle of Concern

the UU issues that matter to you
We look forward to seeing you! Click the date to register.
Tuesday, April 13, 2021

; 4pm Pacific / 5pm Mountain / 6pm Central / 7pm Eastern.
Tuesday, May 11, 2021

; 4pm Pacific / 5pm Mountain / 6pm Central / 7pm Eastern
Tuesday, June 8, 2021

; 4pm Pacific / 5pm Mountain / 6pm Central / 7pm Eastern
Faithify Changes Religious Professional Categories Starting April 1
Seminarians, Religious Educators, Community Ministers, Musicians, Ordained Ministers, Membership Professionals, Administrators -
you asked for this and we listened.
Seminary courses, professional development workshops, clinical pastoral education, and costs related to attend/complete these and similar experiences (including travel, childcare, and books) add up. Too many Unitarian Universalist religious professionals are burdened with excessive student loans or do not have adequate professional development budgets to cover their expenses to attend vital trainings.
Let Faithify and your network of care help!
This change allows you to keep every dollar you raise for your formation and continuing development as a verified UU Religious Professional.
Learn more about this new threshold exempt category and how it works on

Faithify.org

, the Unitarian Universalist crowdfunding website from the Unitarian Universalist Association.
Better Together Blog: Rethinking Terrariums
by Rev. Renee Ruchotzke

When I was a child, I was fascinated by terrariums.

There can be something alluring about creating miniature worlds. It's a chance to observe a world under glass. It offers the challenge of nurturing a balance of plants, soil, moisture and light. The lush microcosm stimulates the imagination: It could conjure a version of J.R.R. Tolkien's Middle Earth, or perhaps offer a little insight into the Mesozoic era.


The following events are upcoming in the region. For full details and a complete list visit the

CER Calendar Page

. Also, please note, if you are mailing a check to the regional office to pay for your registration,

you must write the name and date of the event in the memo line

. Otherwise we may not get it properly credited.

Due to COVID-19 we are expecting all events in 2020-2021 to be virtual. We strongly encourage congregations to do your part to flatten the curve by supporting your congregants virtually through online conferencing, phone, email or letters and forgoing in-person meetings.


EqUUal Access is holding their Carolyn Cartland Sermon Contest.
This annual contest highlights disability-related themes and topics. Entries are due by May 1, 2021 with a cash prize of $500.00 going

to the chosen applicant. The award will be presented at the virtual EA Celebration. Time permitting, the winner may be asked to give an excerpt at the event.
For more information,

please

visit their

website

.

All entries, including the cover page found on this link should be emailed to

info@EqUUalAccess.org
The UUA has updated the

Guidance on Gathering In-Person When COVID-19 Subsides

.
The recommendations have not substantially changed but it does address some issues

in line with

current questions and situations. It also provides sample plans for what data to evaluate for reopening.
Looking for other Pandemic Resources?
Please check the

LeaderLab COVID-19 Resources

and the

Safe Congregations Team Resources

.
The UUA has a

Disaster Relief Fund

for those who want to make a donation to help congregations who have faced losses due to tornadoes, earthquakes, hurricanes, wildfires and more. Please donate if you can. To learn more about the work of the Disaster Relief Fund

visit their webpage

. If your congregation needs assistance, you can apply for a grant on that webpage. We are Better Together.



Virtual Guest in Your Pulpit!

The UUMA has taken over maintaining the list of speakers started by Rev. Kimberley Debus. Check it out to see who is available!

Visit the UUMA website to read the list

. Also, don't forget to check out the

CER Guest in Your Pulpit program

, which includes both lay and professional worship leaders.

New publications from the UUA -

Available now for ordering is

This Day in Recovery: 365 Meditations

, edited by Lane Campbell and Katie Kandarian-Morris,

Widening the Circle of Concern: Report of the UUA Commission on Institutional Change

,
and this year's Common Read,
Breathe: A Letter to My Sons
by Imani Perry.
The UUA is hiring for several positions. Find job descriptions and application information at their

Job Openings

  webpage.
Congregation, Cluster and Affiliate Groups News and Events
| | |
| --- | --- |
| This work is made possible by the generosity of member congregations and individual donors.  | Central East Region of the UUA, 100 W 10th Street Suite 1008, Wilmington, DE 19801, United States |