PWR Congregations in the News
'In God We Trust' to be put into Fresno City Council chamber
Fresno Bee
But not everyone who believes in God believed putting "In God We Trust" on the wall was a good idea. The Rev. Tim Kutzmark, minister of the Unitarian Universalist Church of Fresno, said he was troubled by the resolution, and noted that several of the founding fathers cited by Autry and Bredefeld, including Thomas Jefferson, were Unitarians and "deists" who believed that God was a creator who then stepped away to leave humans to their will. "What Jefferson would trust is creation itself," Kutzmark told the City Council. "We trust the human rational mind and heart to make the right decision."
Ogden City Council mulls measure meant to show support to immigrants, Latinos
Standard Examiner
"They're not going to be going door-to-door finding people that are undocumented," said the Rev. Shelley Page of the Unitarian Universalist Church of Ogden, who helped initiate the effort. Rather, the officials — who met with the reps who helped craft the resolution — committed to meeting directly with Latino community members and hearing their questions and concerns.
Feds grant Jeanette Vizguerra, Arturo Hernandez Garcia stays of deportation
Denver Post
Hernandez Garcia, a Mexican man who lived in the basement of the First Unitarian Society of Denver in 2014 and 2015 and emerged from sanctuary after he was told he was no longer an immigration priority, was arrested on April 26 by ICE agents. Vizguerra had initially taken sanctuary at the First Unitarian Society in February after her stay of removal expired and she chose not to attend a scheduled meeting with ICE, fearing immediate deportation under a new presidential administration that has made it clear it will take a hard line on illegal immigration.
---

Breakthrough Congregations Returns and They are Looking for You!
Breakthrough Congregations returns with a focus that celebrates and shares innovative ways congregations are adapting to the challenges faced in an evolving religious landscape. They are looking for bold one-time initiatives as well as on-going sustainable efforts. This is not based on numerical growth or whole congregation health, though they will consider other benchmarks of health in your congregation.
Are you a congregation in the Pacific Western Region doing adaptive, innovative ministry in a way that could be replicated elsewhere? Maybe you've found a new revenue stream, or have done something different in worship? Or maybe you have a ministry in your community that has become the hallmark of your congregation. Whatever it is, Breakthrough Congregations wants to hear about it!
For more information and application materials, go to their website. Congregations and covenanting communities can apply - the application deadline is September 1, 2017.
---
PWR Youth Elected as Youth Observer to the Board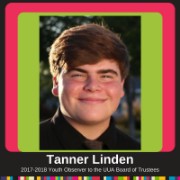 Tanner Linden, a youth in the Unitarian Universalist Church of Ventura, CA, was recently elected as the new Youth Observer to the UUA Board of Trustees and will serve a two-year term from 2017-2019. Tanner will begin his term at the end of General Assembly, and serve alongside Bailey Saddlemire during the second and final year of her term. Tanner has experience serving on the Pacific Southwest District Youth Board, as well as serving on other committees, councils, and positions in the Pacific Western Region.
Tanner's Candidate Statement: "My interest in serving on the UUA Board of Trustees stems from my passion of working to foster and assist the growth of social change and the expansion of the youth revolution. Through my experience serving the youth governance of our faith, I have gained the insight and understanding of the many challenges and opportunities that our faith leadership grapples with on an ongoing basis. I believe that in order to have a successful, relevant, and vital board, we must have all voices heard, most importantly the youth. If elected to the Board of Trustees, I promise to bring a deep commitment to the work of the Board and to build a vibrant voice for all Unitarian Universalist Youth everywhere."
We congratulate Tanner, celebrate the experience that the PSWD and UU Church of Ventura have offered him, and look forward to getting to know him better in a later edition of the PWR newsletter.
---
Sanctuary Social Media Graphics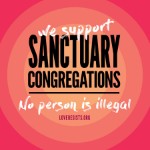 This month's Outreach Revolution social media graphics come from Love Resists, and are a great way to show your support for expanded sanctuary policies, rapid response networks, physical shelter, and more. Download all eight graphics.
From the Growing Unitarian Universalism blog: "We hope you'll share them! And when you do, it's a great opportunity to talk about what commitments you've made to help expand sanctuary and create safe spaces for those most under threat. Perhaps you're advocating for your local school district to refuse to cooperate with immigration orders, or members of your congregation are accompanying undocumented folks at their regular check-ins with Immigration and Customs Enforcement, or maybe you're part of an interfaith coalition offering physical sanctuary in one of your congregations. Regardless, it is so important to be public in our work for justice right now, to show that people of faith and conscience are invested in a different vision for our communities." Visit loveresists.org for more information.
---
PWR Job Postings
Ministry Positions