| | |
| --- | --- |
| News and updates from the UU-UNO  to keep you informed. | Email not displaying correctly? |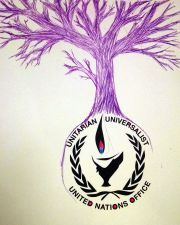 Dear ,
I hope everyone is enjoying the start of summer. Our summer interns have just started - for anyone going to General Assembly next month, you will get to meet two of them (Audrey and Isaac) there! This picture on the right is of a folder we found that someone decorated during the Spring Seminar - it is so beautiful that I wanted to share. We are looking forward to doing a serious cleaning of the office later this summer; no doubt it will turn up even more treasures such as this one!
We will have our bi-monthly Envoy conference call in June - you can

RSVP here

! I'm looking forward to talking with you all about everything that has been going on in the last few months. The two call times will be 1pm Wednesday, June 17th and 5pm Thursday, June 18th.
Blue Ribbon Congregations have just been announced - see below! My most sincere congratulations and thanks to those who have been so supportive of the work of our office. Nine Blue Ribbon Congregations in Canada were presented their award plaques at the CUC

Annual Conference & Meeting

, and those in the US will be presented at the UUA's

General Assembly

in June.
In faith, love, hope, and justice,
Allison Hess
Envoy Coordinator
Sharing information and news is important, but you want to make change in your local and global community. Here's how.




Please complete the following tasks by the end of June.




The UN is not only about diplomacy. Learn more

about the UN's 

World Food Program

 and tell someone (preferably someone you don't know well!) at your congregation about it. This United Nations agency is providing emergency food rations to places like Nepal, Syria, and Yemen, in addition to school meal programs and farming assistance.

Help me update my records! Very quickly, email me and tell me: Are you the current Envoy at your congregation? Since when have you been an Envoy? Have you passed the baton to someone new?

May Review: (1) Fill out the

Annual Meeting Form

 (2) Tell me what types of activity have been most effective at engaging members of your congregation?

  


A look behind, a look ahead

---




April 27-May 

1

: Review conference at the UN for the Nuclear Non-Proliferation Treaty - keep an eye on our 

blog

 for an upcoming post on this!



May 1

: Former Disarmament, Peace, and Security intern Sampson Oppedisano addressed the UN on nonproliferation



May 2

: ECOC Intern Jonathan's birthday!



May 3

: LGBT summer intern Ian's birthday!



May 7

: Bruce, Anne, and Allison go to the UUA's headquarters in Boston for meetings



May 15-17

: Allison and Bruce go to ACM in Ottawa, ON



May 19

: ECOC summer intern Audrey's first day 


 




May 25

: Office closed for Memorial Day





June 2

: Bruce will attend an emergency round table discussion concerning Burma Refugees, at Amnesty International's UN Office

June 10: Envoy Coordinator Allison's Birthday!



June 24-28

: Bruce, Anne, and Allison go to General Assembly in Portland, OR



June 30

: The rest of our summer interns start!
CUC Annual Conference & Meeting
May 15-17, 2015 in Ottawa, ON
The 2015 CUC Annual Conference and Meeting took place recently in Ottawa, ON and Bruce and I were very glad for the opportunity to attend. Throughout the weekend, there was an emphasis on respect for the Earth and the rights of Canada's First Nations. Ottawa was a very fitting location for this conference - the Sunday worship service told the history of Ottawa, which once served as a hub for indigenous peoples to congregate at the juncture of several rivers.





One highlight of this year's ACM was the UU-UNO's reception on Sunday evening. There, we celebrated the work of those Canadian individuals and congregations who have worked hard in support of the goal of world community with peace, liberty, and justice for all. The reception included the presentation of the

 Elaine Harvey International Justice Award

,

 given to M. Elaine Harvey for her enormous contributions to peace and justice through her work at the UN representing the CUC and the UUA in the formation of the International Criminal Court.

  




2014-2015 Blue Ribbon Congregation Awards


This year we celebrate 29 Blue Ribbon Congregations! This includes four congregations who have won

every year

since 2010 when the first award was given. The four six-year winners include: The Unitarian Church in Westport, All Souls Unitarian Universalist Church in Watertown, NY, Kingston Unitarian Fellowship, and

 

First U

nitarian Congregation of Toronto. Congratulations to all! We are very grateful for the support each of you demonstrate to our work. Click below to see the full list of Blue Ribbon Congregations.



Note from the Director: Bruce Knotts
Women's Rights and Human Rights: The Path to Full Participation



     Over the past twelve months, I've found myself a regular invitee at the Council on Foreign Relations here in New York City. I met the director, Richard Haass, from time to time when I was an American Diplomat in Kenya and Sudan. 

On April 28

th

I was invited to a breakfast with Chelsea Clinton, Vice Chair of the Clinton Foundation, Geeta Rao Gupta, Deputy Executive Director of UNICEF, and Juju Gupta, Co-anchor of ABC News "Nightline."  

     While in the West, we have become accustomed to seeing women attain ever greater roles of responsibility, the fact remains in the United States, women earn $0.77 for every $1 earned by a man and in much of the rest of the world women's health and education are neglected.  
Include the following in your congregation's newsletter, website, and/or bulletin! 
Boko Haram

 - As the

new Nigerian president is sworn in

, Boko Haram continues to present a serious threat in the north of the most populated country in Africa. The terrorist group spreads fear, using 

sexual violence against women

as a common tactic, but the US has recently indicated willingness to lend

military support to Nigeria

to help defeat Boko Haram.



Refugees in Europe

 - In an

address to the European Parliament

, UN Secretary General Ban Ki-moon urged leaders to work together to resolve the

Mediterranean migrant crisis

, which is being called that region's worst ever. Many of these migrants are fleeing persecution in their countries of origin.



Indigenous Rights

 - At the end of April, the UN Headquarters hosted 14th Session of the

Permanent Forum on Indigenous Peoples

, with a particular emphasis on ending indigenous youth suicide. Representatives from indigenous populations of various countries participating in the forum

discussed the most 

important issue

facing their group and what they hoped to achieve at the UN.



Prison Conditions - 

One UN Peacekeeper from Burkina Faso is working to improve the terrible c

onditions within

prisons in Central African Republic

 where he is posted. He says: "

The objective of peacekeeping operations is to help give a smile to people struggling... when you have the opportunity to live in peace, it is your duty to work to bring that smile, that hope to other people."

  

Summer has begun, and with it, three of our summer interns have started in the office! (The rest will start later in June.) They bring great energy and fresh ideas to their different program areas - they are excited to share what they have been working on. For more information on any of the program areas, email unintern@uua.org with "Attn: [name]" in the subject line.
LGBT Rights



Hello! My name is Ian O'Connor and I'm the LGBT Program Intern for this summer. I've just graduated from Marymount Manhattan College. Currently I am contacting UU and other faith congregations in the city of New York to build better connections for LGBT asylum seekers, and also to connect them with the United Nations. 

Every Child is Our Child

Greetings! My name is Audrey Carleton, and I am the new program intern for Every Child is Our Child (ECOC) for the summer! I'm a student at McGill University in Montreal.  Currently, ECOC is only able to support 6 children into the high school level--most only receive support up until high school, but not through it.  We'd like to change this!


Climate Change





Hi all! My name is Jen Caplan and I'm the new Climate Change program intern! I graduated last year from Gettysburg College. This summer I will be working with Commit2Respond and the Climate Action Teams at different UU congregations to integrate the programs and raise awareness about Unitarian Universalist environmental justice initiatives.
Sent to: _t.e.s.t_@example.com

Central East Region of the UUA
100 W 10th Street Suite 1008
Wilmington, DE 19801
United States
This work is made possible by the generosity of member congregations and individual donors.