| | |
| --- | --- |
| "Joy and Woe are Woven Fine", PWR & UUA News, and more! | |
Pacific Western Region


Newsletter

•

March/April 2021
Joy and Woe are Woven Fine

By Rev. Carlton E. Smith




Lead - UUA Pacific Western Region





In less than a week, we grieved not one but two deadly gun attacks that left us reeling. The shooting spree in metro-Atlanta ended eight lives including those of six Asian-American women, and the supermarket massacre in Boulder claimed the lives of 10 people, most of whom were going about their daily business of providing for themselves and their families.





The Asian-Pacific Islander Caucus (APIC) of Diverse Revolutionary Unitarian Universalist Multicultural Ministries (DRUUMM) organized a powerful Black/Indigenous/People of Color (BIPoC) Unitarian Universalist virtual vigil a fortnight after the Atlanta murders. I was moved by the sharing as APIC members reflected on their own experiences of racialized harassment, sexual objectification, fears for their children, and the seductive lure and ultimate betrayal of the "model minority" label. Those of us who were not API expressed our love and solidarity: My brief sharing centered on the similar circles we've organized after other devastating crimes, such as after the Charleston Nine were gunned down at Mother Emanuel AME Church during Bible study in 2015.





Similarly this week, Unitarian Universalists in, around, and far beyond Boulder came together on Zoom the night after those murders. We created a time when we could offer words of comfort and support to each other as well as space to connect through music and song to the depths of our despair and collective loss. Rev. Summer Albayati, serving as the contact for the Boulder congregations while Rev. Sarah Gibb Millspaugh is on sabbatical, provided the chalice lighting.

This is the prayer that I offered after a brief time of silence

.





Where do we go as Unitarian Universalists when faced with humans' inhumanity toward each other? We can go wherever we choose, and sometimes we find ourselves in emotional states not of our choosing that we can't wish our way out of.



I would offer three ideals I find myself leaning into during these difficult days:

covenant, community and connection

.



Covenant

is fundamental to who we understand ourselves to be as Unitarian Universalists. We are bound together less by shared systems of belief and more by agreements for the regard with which we will hold each other, humankind, and the "interdependent web of existence of which we are a part." For example, what are our silent agreements with ourselves? Are we drinking enough water, getting enough rest, and otherwise tending to our own well-being? In our relationships with others, are we living out our Unitarian Universalist principles everyday, extending goodwill to others and taking accountability for the harm we do, even when we don't intend it?



Community

is where we live out and practice covenant. It's where our shared values are tested and take on a life of their own. I recently heard a UU ministerial colleague describe the congregation she serves as a "socialist communitarian endeavor," and that resonated with me. We are less focused on transactional engagement with each other in community

--

"I gave

this

so I expect

that

in return"--and more on the good of the whole. Questions we can ask are: What have I done to love up on my community or communities lately? Where can my gifts, resources and skills make a difference?





Connection

takes us from the conceptual and into action as far as community goes. It's one thing to think about how to keep agreements and how to contribute, and another to make the next move that puts us into relationship. Tragic losses like the ones we have borne witness to recently cause us so much pain, yet we can turn that pain right back around and make it a prompt to help build the world we dream of. In memory of those lost in metro-Atlanta, what eight organizations can give to that are countering violence against women, sex workers and/or Asians/Asian-Americans and Pacific Islanders? In honor of those slain in Boulder, what 10 people in my life can I reach out to and let them know how much they mean to me?



Life will continue to generate events that leave us devastated and bereft. As the song "Every Night and Every Morn" says in our hymnal

Singing the Living Tradition

, "Joy and woe are woven fine / clothing for the soul divine / under every grief and pine / runs a joy with silken twine." May we in our liberal religious way continue to look for the good in this life, especially when doing so is hard.





In faith,




Carlton
Love Right Through Forums for April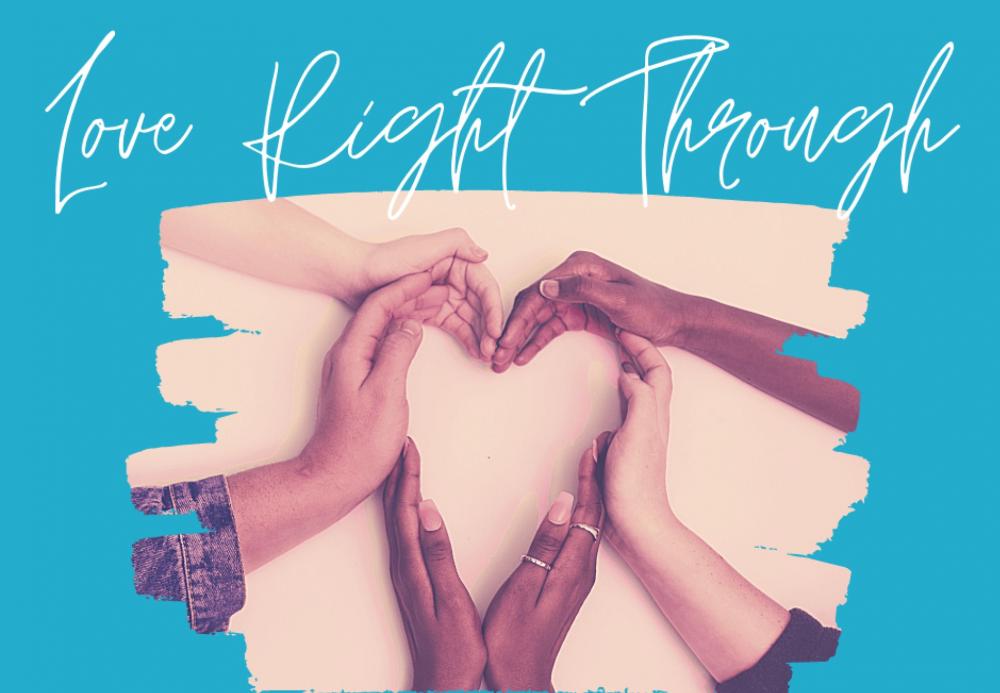 Love Right Through Forum Topics
April 5 6:30pm - 8:00pm PT

Chalice Lighters




April 19

6:30pm - 8:00pm PT

Finances



Twice a month gatherings on specific topics. Boards & staff will offer 15-20 min of context & status on the topic, the rest is up to the group. We hope to answer specific questions and know that many concerns will take more time and thought than these 90-minute sessions. Topics to include: Chalice Lighters, Finance, Youth & Emerging Adults, and more. Join in the conversation first and third Mondays in April & May. Recordings and summaries will be available here a week after the forum.
Register here
.
UUA Board of Trustees Open House
Tuesday, April 13, 2021; 4pm Pacific / 5pm Mountain / 6pm Central / 7pm Eastern
Co-Moderators Meg Riley and Charles Du Mond invite you to come and check in with the UUA Board of Trustees at its upcoming Zoom Open House. Bring your questions and chat about:
what the Board has planned leading up to General Assembly

General Assembly 2021

serving Unitarian Universalism as a volunteer at the national level

the progress of the Article II Study Commission

your congregation's engagement with Widening the Circle of Concern

the UU issues that matter to you
Small Congregation Webinar Series on Sharing
The last webinar of the Small Congregation Sharing Series on
Sharing Youth Programming in Smaller Congregations
will be offered April 22, 2021 at 7pm ET/6pm CT/5pm MT/4pm PT. Registration is open! Join Shannon Harper and Eric Bliss to learn about ways to enhance your youth programming by joining with other congregations. Registration is open. If you missed the first two webinars on Worship and Staff Sharing, you can find recordings of both of them in the
UUA LeaderLab Library
.
Congregational Collaboration Board
Are you intrigued by the possibilities of sharing staff? Wondering how you might connect with a congregation that is offering or seeking staff? Browse our

Congregational Collaboration Board

, a new section of the UUA Jobs Board. To view basic information, no login is required. Create a MinistrySearch login to gain access to the contact information that accompanies the listings. When logged in, key congregational leaders can post new listings.

See our

Sharing Staff

page in LeaderLab for more on expanding work opportunities and enhancing programs through collaborative staffing.
Youth Peer Pastoral Care Training for Religious Educators

With Annie Scott, Evin Carvill Ziemer, and Nyana Harper
We had a wait list for the first round of the DRE focused "Peer Pastoral Care with Youth" so we've opened up a second section.
This one is Saturdays 12-3pm ET: 4/24, 5/1, 5/15, and 5/22
Session 1: Introduction to Listening Skills
Session 2: Crisis Pastoral Care
Session 3: Oppression and Microaggressions
Session 4: Implementation (policies, training your own youth and advisors, and more)
Register here

!
New for Religious Professionals: "All-or-Nothing" threshold removed for all your education, credentialing, and professional development fundraising campaigns on Faithify!
Most fundraisers on Faithify need to reach a set goal before any of the donations will be processed (All-or-Nothing funding). However, some projects are best served if funds are immediately processed, so Faithify has categories of fundraisers that are exempt from the All-or-Nothing goal:
UUA General Assembly expenses
and
Disaster Relief
. Now, for April 2021, we are adding a third threshold exempt category of campaigns,

UU Religious Professional Credentialing and Development

.
Seminarians, Religious Educators, Community Ministers, Musicians, Ordained Ministers, Membership Professionals, Administrators -
you asked for this and we listened.

Seminary courses, professional development workshops, clinical pastoral education, and costs related to attend/complete these and similar experiences (including travel, childcare, and books) add up. Too many Unitarian Universalist religious professionals are burdened with excessive student loans or do not have adequate professional development budgets to cover their expenses to attend vital trainings.

Let Faithify and your network of care help!

This change allows you to keep every dollar you raise for your formation and continuing development as a verified UU Religious Professional.
Learn more about this new threshold exempt category and how it works

on Faithify.org, the Unitarian Universalist crowdfunding website from the Unitarian Universalist Association.
Breaking Covenant - Repair Restore Renew
Saturday, April 10, 2021, 09:00 am
-
12 pm Pacific
Every congregation has experienced destructive behavior that has caused upset, tumult, and conflict, from microaggressions to outright aggression, and other forms of inappropriate behavior.

Join members of UUA Congregational Life staff on Saturday, April 10 to learn more about the need to have policies and procedures in place to deal with destructive behavior.

Learn more

here

.
Virtual General Assembly 2021: Register Now!
Circle 'Round for Justice ● Healing ● Courage is the theme for General Assembly 2021. General Assembly is a time to circle 'round in community. We circle 'round in care and healing; for liberation and justice; and for love and courage. We share stories of the work happening at our Association and in our congregations. We study ways to implement and live into our mission. UUA GA 2021 will incorporate recommendations from the Commission on Institution Change report, "Widening the Circle of Concern" and dialogue with the Article II Commission about our Principles and Purposes.

Job openings in PWR congregations are now included on the
UUA Jobs Board
. Don't worry — even though the URL says "ministrysearch", you'll find all positions posted here. If your congregation has an opening you'd like listed, please complete the
online submission form
and we'll get it posted for you.
Spring Youth Con: ChUUse YoUUr Own AdventUUre!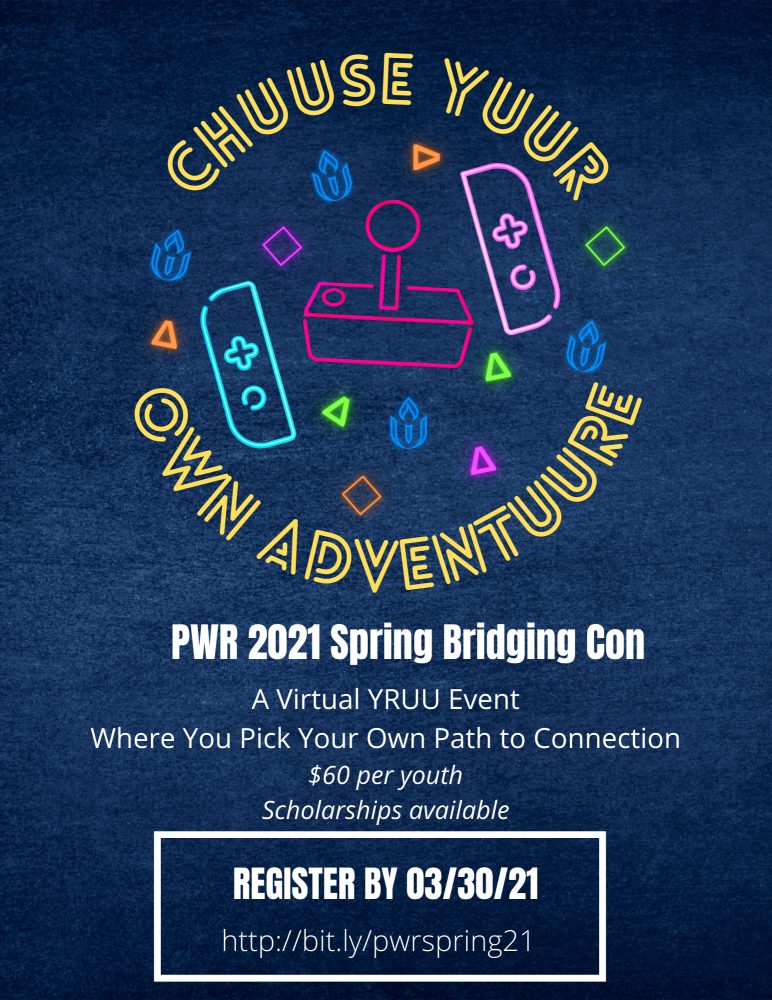 Your regional con planning team is designing an adventure where you choose your path.  This con is spread out over a month and allows you to wander in and out for the parts you are interested in, or you can come for everything.
High school youth (14-18yr) and their adult sponsors will be gathering for an opening, then Monday, Thursday and Saturday nights as they wish over the next month and then everyone back together for a closing Saturday, May 1st.
This will be a multisensory experience where each participant receives a care package and we are experimenting with fun platforms for gathering beyond simple Zoom.
Features
:
Bridging for Seniors

ChUUse your own touch group

Activities and Quests every week from meditations to cooking together to dance parties and more!

A dedicated Slack Channel to stay in touch throughout the month and after Con

Game nights

Worship

Community!

New meeting platform that takes Zoom to the next level and beyond

Care package with fun goodies to use throughout the month
Register now

!
Pacific Western Region (PWR) Events

Spring Con

- Virtual -

ChUUse YoUUR Own AdventUUre

, a multisensory month-long experience of UU community and UU faith.

April 4 - May 1.

Register now

.

FUUsion 2021 - Virtual Camp July 11-18.




District Specific Programs
PCD MUUGs
PSWD
Camp de Benneville Pines
MOUNTAIN DESERT DISTRICT NEWS
MDD Spring Chalice Lighter Call Now Open!
It's that time again – time to help out a deserving congregation in the Mountain Desert District.  Three times a year, the MDD puts out a call for donations from Chalice Lighters (or anyone). Your generosity with the Spring Call will help Cache Valley Unitarian Universalists of Logan, Utah with a much-needed repair project to the retaining wall on their property – can't have their land falling into their neighbor's land!

We know UUs are generous people – hopefully, your circumstances allow you to be generous at this time. The Winter call which ended February 28 will help the UU Fellowship of Missoula, Montana replace their roof, something which is long past due. Visit the

MDD website

to read the call letter and make a donation.
PACIFIC CENTRAL DISTRICT NEWS
Updates from the PCD Board
Community Conversations Continue
Thank you to the twenty-four people who registered or showed up for the conversation on "Church 2.0" with board member Clovice Lewis. Clovice provided us with a framework for examining the broad and long-term contexts in which we will be making decisions on how to be a congregation in the near future. The raw recording of the conversation is available

here

. People expressed a desire for a day-long conference to explore various subtopics in greater depth! If this appeals to you, exploring resources on "church planting" are a great place to start.

Here are some other topics that people are interested in discussing with others:
Religious education, volunteer development, whole church ministry

Promising practices for search committees to invite diverse people into congregational leadership

How is engagement with the report of the UUA's Commission on Institutional Change going?

What kind of help can we offer each other as congregations try to maintain both virtual and in-person services?


Please tentatively reserve Sunday, May 16th at 3PM PT/Noon HST for our next community conversation.
The final date and time and a link to a registration form in which you can indicate your preference for a topic will be published in April.
With the

Love Right Through Forums

also taking place, there are many conversations…and PCD Board hopes to continue to host spaces for conversations open to topics that matter to us at the moment we gather.
Chalice Lighters
We have raised $3,700.70 for the UUA Disaster Relief Fund! Thank you to the 167 people who contributed to the last Chalice Lighters call.
If you can give to support local initiatives to grow in our mission to love all the world and every each other, please consider becoming a Chalice Lighter.
The next call will support the

Unitarian Universalist Church in Berkeley

to create a UU History Pilgrimage for Youth around the crucial areas of Unitarian and Universalist history in the Bay Area. UUCB hopes this program of field trips and events for 10th-12th graders magnifies and fosters relationships with other congregations in the spirit of shared history and connection. In addition, the Chalice Lighters grant will be used to establish a care package program with local universities to foster and build connection with the faith of the present and the faith of the future simultaneously.

Read the call letter and sign up here

.

If you are interested in the future of the Chalice Lighters program and how the four PWR Districts might fundraise together, the next Love Right Through Forum on Monday, April 5th will center on the Chalice Lighters program.

Register here

if you haven't already, and

provide your input

here if you can't attend in person.
PCD Annual Meeting in June
The PCD Annual Meeting with take place either

Saturday, June 5th at 3PM PT/Noon HST or Saturday, June 12th at 3PM PT/Noon HST

. The date will be set in April. Please put these on your calendar, and reflect on whom you might want to have as delegates from your community, and whom you might want to have as a board member. Change is in the air!
Final Thoughts
In so many ways the times we live in feel pivotal. As I write, news of a second mass shooting within a week fills my screens. My tears were not dry yet. This cannot be our new normal.
This cannot remain our normal.
Thank you, fellow UUs, not only for continuously affirming that there are other possibilities, but your ongoing willingness to make those possibilities real.
Catherine
PACIFIC NORTHWEST DISTRICT NEWS
PNWD Winter Chalice Lighter Call Now Open!
Dear Chalice Lighter,
Thank you for being a generous and faithful donor to Chalice Lighters! Your donations to the Fall and Winter Calls as of this writing have exceeded $40,000. Pandemic Relief or Technology Grants have so far been issued to Woodinville UU Church, Edmonds UU Congregation, and Mid-Columbia UU Fellowship.
This is your Spring Call for the 2020-2021 church year. The Inland Northwest Unitarian Universalist Community (INUUC) is an emerging UU congregation that will serve the population of Spokane and Eastern Washington. Their belief in the promise of Unitarian Universalism and adherence to its principles led them to risk beginning a new religious community in the midst of a global pandemic. They are making practical but bold plans, focusing on social justice issues, and striving to be inclusive, multicultural, and multigenerational. Your support will assist INUUC with the nonrecurring costs associated with "hitting the ground running" in their quest to offer more opportunities for religious liberals in their area to become Unitarian Universalists.
Does your congregation need help to recover and thrive again?
If so, please encourage your leaders to apply for a Chalice Lighter grant, and volunteer to help with the application or to sign up Chalice Lighters to meet the modest percentage requirement. The shortened "Chalice Lighter Pandemic Relief Application" form is available
here
. The form details award criteria and instructions.
Some funds remain to be awarded.
  Do you need fiscal help moving to hybrid services when you reopen? Think creatively about strengthening your outreach to others in your community who need liberal religion in these fraught times! For more information and to make a donation,
visit the PNWD website
.
PACIFIC SOUTHWEST DISTRICT NEWS
In
Memoriam
- Michael Hart
On behalf of the PSWD board, I share the very sad news that our recent past president, Michael G. Hart, died on March 12, 2021. Michael served on the Pacific Southwest District for several years, in various roles. He concluded his service this past June 2020 as the Board President. Always a consummate leader, Michael's final action in service to our shared faith tradition was to lead our team in the last minute pivot to the all-online virtual district assembly last April. It seems somehow inconceivable that this was just a year ago. A gifted and talented leader, he brought out the best in all those he worked or interacted with, and was pleasantly well-adapted in keeping meetings on time and on agenda. This skill was certainly a favorable and welcome trait for someone in leadership. Michael had an open spirit and a winning smile, we on the PSWD Board will certainly miss him, and we know that so many of you will also.

As you will read in the obituary

prepared by his beloved wife Susan, Michael was an active UU and gave countless hours to our shared faith tradition. We mourn his passing and give thanks for a life well lived and shared with so many.

In Sympathy,
Rev. Kevin Lawson
President, PSWD
PSWD Annual Business Meeting 2021
In conjunction with our annual business meetings, the

Pacific Southwest District of the UUA (PSWD)

 & 

Camp de Benneville Pines (DBP)

are offering an opportunity to Love Right Through locally, by connecting with other UU Pacific Southwest Service Area congregants. You can exchange ideas, actions and thoughts in breakout rooms on a variety of topics. For a tentative schedule and agenda, registration, and delegate certification please

visit our website

.
Camp de Benneville Pines Annual Meeting 2021
Camp de Benneville Pines is a Unitarian Universalist retreat center on a 16-acre campus in a tall tree forest at an elevation of 6,700 feet.

It is an independent 501c(3) and is owned by the UU congregations who are geographically in the Pacific Southwest District (PSWD).

This geographic area will be referred to as the Camp de Benneville Pines Service Area.

Camp de Benneville Pines (deBenneville) will hold its annual meeting by Zoom following a PSWD meeting at 9:00 am, Saturday, April 17, 2021. Delegates will be required to approve a bylaws change, to vote on the continuation of service for Board members, and possibly to vote for a new person to join the Board.

DeBenneville has good news about stewardship initiatives including the Emergency Relief Fund, as well as plans to celebrate 60 years since its founding and a belated celebration for 25 years of service from our Executive Director, Janet James. You are encouraged to attend, participate, represent your congregation, join our stewardship activities, and nurture the sustainability of Camp de Benneville Pines. For more information, please visit the

PSWD website

.

Updates from UU Justice Arizona
Police, Safety, and Community
City budgets are moral documents. Show me your budget, and I'll tell you what you value. Look up your own city budget… how much of it is spent on policing? In cities across the PWR, we have been working for safe communities, and against police violence, by advocating for moving funds out of the police budget, and into programs that lead to true community safety. Investing in affordable housing, mental healthcare, education, treatment for people who use drugs, and solutions for poverty, build healthy and safe communities. Increasing police funding only increasing criminalization of communities that deserve care. Reallocating funds to community supports reduces violence and harm on all levels.
Want to learn more?

Sign up now

for a political ed convo with UUJAZ, Poder in Action, our friends at Side With Love and UU the Vote on Wednesday, April 7th, 5-6:30pm Pacific, which will lead you into the big national phonebank on April 17th.
Let's create community safety in Phoenix together!
InSpirit UU Book and Gift Shop
Desmond Gets Free
Matt Meyer (illustrations by Khim Fam), Skinner House Books, 2021
"If you are neutral in situations of injustice, you have chosen the side of the oppressor. If an elephant has its foot on the tail of a mouse and you say that you are neutral, the mouse will not appreciate your neutrality."
—Archbishop Desmond Tutu
Every morning Desmond the mouse wakes with the sunrise and spends the day playing in the beautiful meadow where he lives. And every night he goes to sleep under the starry sky. That is until one night he wakes up and finds an elephant asleep on his tail! Desmond asks for help from every kind of animal passing by but no one wants to disturb the sleeping giant. How will Desmond get free? With Matt Meyer's thoughtful story and lush watercolor illustrations by artist Khim Fam, Desmond Gets Free introduces young readers to timely and nuanced concepts of justice and liberation in a kid-friendly and accessible way. Ages 4–8.
Matt Meyer
has a degree in hand drumming from Berklee College of Music and has studied abroad in Cuba, Ghana, and Central America. He's worked on campaigns to preserve old growth forests, support farmworkers rights, and stop the construction of fossil fuel pipelines, and is always looking for ways to dismantle systems of oppression and support communities grounded in justice.
Khim Fam
is a self-taught illustrator who caught the painting bug as a child watching his uncle paint vibrant canvases in the studio. He loves taking long walks in the woods and is inspired by the colors and shapes of our natural landscape. Khim hopes to create magical worlds through painting that allow us to better connect ourselves with the world around us.
Now available to pre-order
!
Pacific Western Region of the UUA Newsletter










| | | | | | | | | | | |
| --- | --- | --- | --- | --- | --- | --- | --- | --- | --- | --- |
| |   | |   | |   | |   | |   | |