PWR Congregations in the News
The High-Quality Sex-Ed Program on Offer From Churches
Participants and facilitators of the Our Whole Lives (OWL) lifespan sexuality education curricula, co-created by the UUA and the United Church of Christ, share their experiences of using the program across faith communities. "The OWL course content outlines strategies for how to get communities or congregations on board with teaching in-depth sex education, noting that overcoming the obstacles of false assumptions and unchallenged stigma can be the toughest part."
Read more from Rewire.
This Is Our Best Defense Against Trump's Immigration Policies
First Unitarian Society of Denver is among the growing number of religious congregations pledging sanctuary, a number that more than doubled in the months immediately following the 2016 presidential election. Many more have pledged material support and volunteer help to the 800-plus congregations offering physical shelter.
Read more from Yes Magazine.
---
UUA Presidential Candidates Forum
At Mount Diablo UU Church in Walnut Creek, California, the Pacific Central District's Assembly featured a UUA Presidential Candidates Forum hosted by Rev. Dr. James Kubal-Komoto, PWR Regional Lead, and moderated by Rev. Leslie Takahashi.
Watch the video. [1.5 hrs]
---
Immersion Learning for Religious Leaders

The UU College of Social Justice is offering two opportunities this fall for seminarians, ministers, and DREs to strengthen justice engagement as part of your ministries. Border Witness for Religious Leaders (October 30-November 4) is a powerful immersion at the Arizona/Mexico border, learning about the lethal consequences to migrants of current immigration policy and how religious leadership can play a key role for justice. Guardians of the River (November 25-December 2) is a climate justice immersion program in Nicaragua, connecting with liberation theologians and grassroots resistance groups struggling to preserve their land and water. Learn more and join us this fall!
"UUCSJ experiences are rich in depth of meaning and are very impactful. Even months later I find myself coming to a deeper and fuller understanding of something I witnessed or heard in a story. And then months later still, I connect another dot with something else here at home, or elsewhere in the world." — Jacqueline Brett, Meadville Lombard MDiv. 2017
---
UUA Board Webinar "What General Assembly Delegates can Expect at GA 2017"
If you are attending General Assembly (GA) 2017 this summer as a delegate, either in New Orleans or as an offsite delegate, you are cordially invited to join Vice Moderator Denise Rimes, and several others as they discuss the agenda for this year—including bylaw amendments, a statement of conscience, and the UUA presidential election. Your delegate experience will be greatly enhanced by being prepared for the mini-assemblies and discernment and discussion on these important issues.
Webinar Details
Up to 500 participants will be able to join each live webinar. Please note that this one-hour and 15-minute webinar is scheduled for four separate dates and times. Each webinar covers the same material. There is no registration for these webinars due to the large number of open participation slots in each.
To join the webinar, either click the 'Connect' link or join by phone: +1 646 558 8656 (US Toll) or +1 408 638 0968 (US Toll) and enter the Webinar ID.
In the meantime, review the slide deck (PDF, 30 pages) used in the webinar.
---
Understanding Ministerial Compensation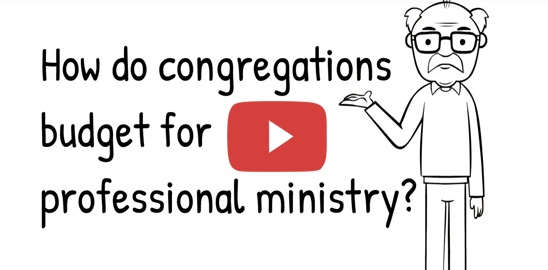 This brief video from the UU Leadership Institute is designed for new leaders in congregations to better understand ministerial compensation.
Watch the video. [1min 45secs]
---
Breakthrough Congregations Returns and They are Looking for You!

Breakthrough Congregations returns with a focus that celebrates and shares innovative ways congregations are adapting to the challenges faced in an evolving religious landscape. They are looking for bold one-time initiatives as well as on-going sustainable efforts. This is not based on numerical growth or whole congregation health, though they will consider other benchmarks of health in your congregation.
Are you a congregation in the Pacific Western Region doing adaptive, innovative ministry in a way that could be replicated elsewhere? Maybe you've found a new revenue stream, or have done something different in worship? Or maybe you have a ministry in your community that has become the hallmark of your congregation. Whatever it is, Breakthrough Congregations wants to hear about it!
For more information and application materials, go to their website. Congregations and covenanting communities can apply - the application deadline is September 1, 2017.
---
PWR Job Postings
Ministry Positions