Hello Beloved,
As you well know, 2020 has been for the most part, a very, very painful for everyone. Amid a global pandemic, epic unemployment, and a series of state-sanctioned murders of Black people, let us also take a moment to remember another year of the horrific violence against the transgender community.

In 2020, at least 34 transgender or gender non-conforming people were murdered, the majority of which were Black and Latina transgender women. Many more transgender people took their own lives as well, and those who have survived often experienced unprecedented hardship this year.

As such harm continues to impact transgender/non-binary people, we are also mindful of their resilience--and victories for trans rights. In 2020, Sarah McBride became the first transgender candidate ever elected to state senate. Transgender activist Aimee Stephens, along with other LGBTQ litigants, won the SCOTUS ruling that the 1964 Civil Rights Act protects gay, lesbian, and transgender employees from discrimination based on sex.

Transgender and non-binary people everywhere are working for justice in many ways. They are surviving in a world often not built for their survival. They are supporting each other and working daily for a world where trans people are celebrated and normalized. They are simply existing, too, whether or not they decide to be openly transgender/nonbinary, and that is a powerful act of resistance. May we celebrate them too, as we grieve the loss of these 34 lives.

Time and again, experience and research show that when trans people experience support, connection, and validation, from each other as well as from cisgender people, they are more likely to survive and thrive.

As Unitarian Universalists, there is more work to do for us to be the community that trans and non-binary UUs deserve and need. Let us lean into trans resilience and support its blossoming. In mourning, let us work to end the white supremacy, trans antagonism, and other forms of oppression that are literally killing Black trans people.

As Unitarian Universalists, let us celebrate the inherit worth and dignity of trans people by remembering those we've lost and honoring those living among us, charging us to love better, work harder, and be more equitable toward all people, especially those who are transgender, genderqueer, non-binary, and other non-cisgender identities.
Blessings Abound.

Michael & Adrian
Adrian Ballou

(They/Them)

LGBTQ and Clara Barton Gender Justice Fellow
Organizing Strategy Team



Rev. Michael J. Crumpler

(He/Him/His)


LGBTQ and Multicultural Programs Director


Ministries and Faith Development

"It took many years of vomiting up the filth I was taught a  about myself and halfway believed before I could walk around this earth like I had a right to be here."

- James Baldwin
Jaelynn Scott, M.Div.

, is the Executive Director of Lavender Rights Project and the founding member of the WA Black Trans Task Force. Jaelynn has worked as a Director of HR, Operations, and Education for nonprofits and religious organizations. She is an ordained minister and regularly preaches and facilitates workshops on justice and
mindfulness. Jaelynn is passionate about trans liberation, sacred practices for self-care, decolonized labor practices, and mindfulness in the workplace.

Find out more about Lavender Rights Project here:

www.lavenderrightsproject.org
Rev. Mykal O'Neal Slack

is the Community Minister for Worship & Spiritual Care for Black Lives of Unitarian Universalism, an organization and growing spiritual community that provides support, resources, and care for Black UUs across the diaspora. He is also one of the co-founders of the Transforming Hearts Collective, an organizing ministry that helps to both co-create spaces of healing and spiritual resiliency for queer and trans/nonbinary folks and resource congregations in the work of radical welcome and culture shift.
We are excited to announce that the UUA's LGBTQ and Multicultural Programs Office is hosting the UPLIFT Monthly Trans/Non-Binary Gathering Space!
We've been planting seeds of justice for weeks, months, years, and generations.
In this season of pandemic, elections, and uprisings, this is the time to Harvest the Power of our values, our organizing, and our shared imagining of a more just and loving world.

Join with UUs across the country in these opportunities to deepen our relationships, draw on the sources of wholeness and strength in which we are rooted, and move together in powerful ways for justice.

This moment of collective action and faith formation weaves together all Unitarian Universalist justice ministries. This is a shared endeavor between UUA, Side with Love, UU the Vote, and UUMFE.
Welcoming Congregations: Five Practices of Welcome Renewal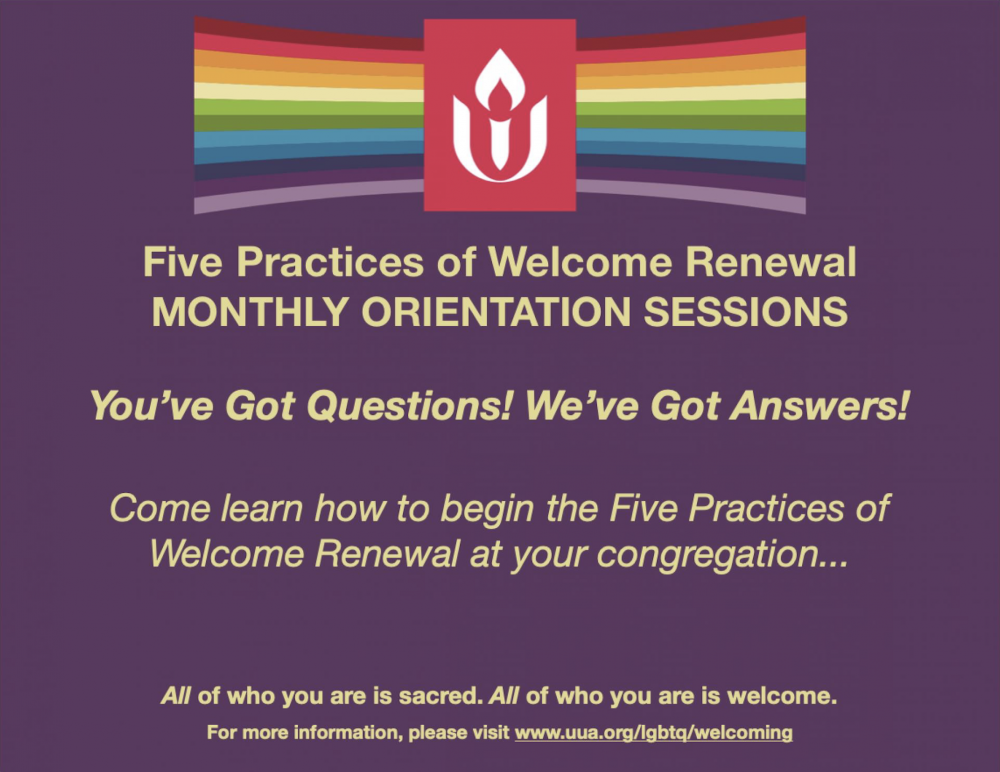 To learn how to live the


Five Practices of Welcome Renewal


at your congregation...
Please attend
The Five Practices of Welcome Renewal Zoom Orientation
Support UUA LGBTQ+ Ministries
Each of us has worth and dignity, and that worth includes our gender and our sexuality.
As Unitarian Universalists we not only open our doors to people of all sexual orientations and gender identities, we value diversity of sexuality and gender and see it as a spiritual gift.
Your support

helps keep our LGBTQ Justice and Public Witness work active and vibrant, as well as deepening our Welcoming Congregations program.
| | |
| --- | --- |
| | sent to: mjcrumpler@me.com |