Hello Beloved,
Surprise! It's October ... and November is coming
soon and very soon!
(Those of you familiar with that ole gospel hymn by the great Andraé Crouch can thank me later for the "earworm.")
Four years ago, I thought Fall 2020 would never come. Literally, I felt like the end of the world was near. But now, moving into November, my feelings have been realized. The world as we knew it then has ended. The way we once gathered together with our loved ones is over. The way we once traveled down the street, across the country, and across the border has ended. The way we once worked, the way we schooled, and the way we played has now come to an end.
Nearly every fiber of our being has changed as we reach the brink of another critical turning point in our nation's history where the future of our way of life feels as uncertain as our past. Will the sunrise of November 4th be emblematic of a new day rising ... or will the morning after November 3rd be no different than the mornings that have spanned these last four years?
Whatever happens, albeit brightness or twilight, may you be surrounded, supported, and sustained by all who love you well. May you find joy amid despair. May you find sobriety amid exuberance. Rest assured, there will be so much work to do and even so, it will never be all yours or all mine. May our Unitarian Universalist faith hold on to you and may you hold on also, as we commit to doing the work together.
Amin, Ase, May It Be So.
Blessings Abound.

Michael
Rev. Michael J. Crumpler

(He/Him/His)


LGBTQ and Multicultural Programs Director


Ministries and Faith Development

"It took many years of vomiting up the filth I was taught a  about myself and halfway believed before I could walk around this earth like I had a right to be here."

- James Baldwin
Welcome to our new LGBTQ Ministries and Gender Justice Fellow, Adrian Ballou!
In this position funded by the UU Women's Federation (UUWF), Adrian will work with two staff groups Ministries and Faith Development (MFD) and the Organizing and Strategy Team (OST). Their work will be centered on building relationships among trans/non-binary lay UUs; strengthening gender justice ministries in UU congregations; and supporting and improving reproductive justice initiatives and partnerships.

[Read More]
We are excited to announce that the UUA's LGBTQ and Multicultural Programs Office is hosting the UPLIFT Monthly Trans/Non-Binary Gathering Space!
October is LGBTQ History Month
"The Stonewall Generation" Jane Fleishman Book Events


October is LGBTQ History Month, with National Coming Out Day on October 11th, and the author Dr. Jane Fleishman and many of the elders featured in The Stonewall Generation: LGBTQ Elders on Sex, Activism, and Aging will be participating in two virtual events held by Massachusetts bookstore.


On October 29th at 6PM ET

, East End Books in Provincetown, will host

the launch event, in partnership with SAGE, one of the oldest and largest non-profit organizations dedicated to the needs of older LGBTQ people.

Dr. Fleishman will be in conversation with David Velasco Bermudez and Bob Isadore.

Registration information to come—links will be shared on Skinner House's social media.



*These events are free but registration is required.
O

ctober 11th is
National Coming Out Day


I share it with you as a reminder that for me "coming out" is continual, always happening, and never ending. The fear and the joy of sharing myself over and over again to friends and strangers, family and peers is everlasting.

October 21st is
International Pronouns Day


International Pronouns Day seeks to make respecting, sharing, and educating about personal pronouns commonplace.

Referring to people by the pronouns they determine for themselves is basic to human dignity. Being referred to by the wrong pronouns particularly affects transgender and gender nonconforming people. Together, we can transform society to celebrate people's multiple, intersecting identities.



To learn more about respecting pronouns

at you congregation, please visit: https://pronounsday.org/resources.

October 26th is
Intersex Awareness Day


What I Wish I Knew Before Coming Out as Intersex
By Hans Lindahl and Interact Youth Members


How do you set boundaries when it can feel like changing the world requires laying yourself bare?
When going public in the media with my own story as a teen, I didn't know what I didn't know. Fellow intersex advocates share the tips and boundaries they wish they'd had.

[Read More...]
Join UU the Vote for a Week of Action to Harvest the Power!

Wednesday, October 21st through Tuesday, October 27th is UU the Vote's final push to ensure that we reach 1,000,000 voters before Election Day.

Harvest the Power Week of Action activities include:

October 21-27: Host a UU the Vote Phonebank with your Congregation

October 21-27: Prepare for work after Election Day. Watch "Ready and Resilient: Organizing for Nov 3rd and Beyond"
October 21: National Phonebank to Wisconsin

October 24: National Phonebank to Pennsylvania

October 25: UU the Vote Evening Worship

October 26: Vote Love Pledge Rally with DJ Carmen and special guests

October 27: National Phonebank to Florida
Sign the Vote Love Pledge

and commit to joining in the Harvest the Power week of action, coming up October 21-27th.

Join nearly 1000 UUs in committing to join the Harvest the Power Week of Action.
Let UU the Vote know what actions you'll be personally taking, and how you're going to organize your congregation to join you!

For more information visit the

Harvest the Power Week of Action and to sign the Vote Love Pledge

.
Friday, October 30th @ 2pm ET

/ 1pm CT / 12pm MT/ 11am PT




As the election approaches, UU the Vote is holding space for the most vulnerable among us. The Clearing Circle is a one-time virtual small group gathering of LGBTQ+ UUs.


The Clearing Circle will be a time for grief and comfort, sadness and joy, resiliency and resistance.

*Registration will be limited to 15 persons.
THE DAY AFTER...SCOTUS Will Hear Fulton v Philadelphia

on November 4th
Fulton v Philadelphia
, is about whether a private foster care agency that receives public funds can use their religious beliefs to justify not serving LGBTQ+ people.

What's At Stake:  
Private agency that receives taxpayer-funding to provide government services to deny services to anyone they don't approve of, including LGBTQ+, Jewish, Muslim, Mormon, single women, those previously divorced and more.

Services include

adoption, food banks, homeless shelters, disaster relief and more.
No one should be denied access to taxpayer-funded services because of race, gender, sexuality, religion or lack of religion!!!
Welcoming Congregations: Five Practices of Welcome Renewal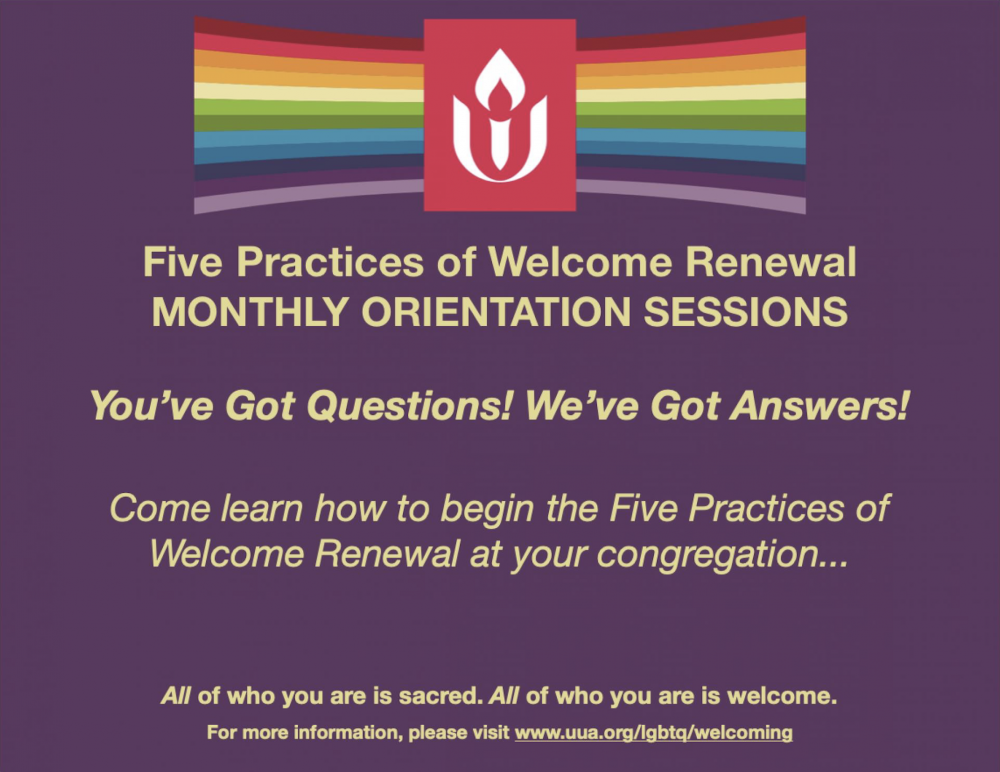 To learn how to live the


Five Practices of Welcome Renewal


at your congregation...
Please attend
The Five Practices of Welcome Renewal Zoom Orientation
CONGRATULATIONS to the
2020 Five Practices of Welcome Renewal Congregations

Unitarian Universalist Church of Surprise, Surprise, AZ
Unitarian Universalist Church of Tippecanoe, West Lafayette, IN
Unitarian Universalist Fellowship of Newark, Newark, DE
Throop
Unitarian Universalist Church, Pasadena, CA
First Parish Wayland, Wayland MA
River of Grass
Unitarian Universalist Congregation, Sunrise, FL
Unitarian Universalist Church in Reston, Reston, VA
Tri-County
Unitarian Universalists, Summerfield, FL
Unitarian Universalist Fellowship of Mankato, Mankato, MN
Columbine Unitarian Universalist Church, Littleton, CA
First Unitarian of Cincinnati, Cincinnati, OH
Unitarian Church in Charleston, Charleston SC
Westside
Unitarian Universalist Church, Fort Worth, TX
Unitarian Universalist Church of Bloomington-Normal, Bloomington, IL
Resources for Welcoming Congregations
Liberating All Bodies: Disability Justice and Intersex Justice in Conversatio
n

Radical changes require radical connections. Guided by the vision and work of the late Stacey Milbern, four powerful activists, researchers, artists, and educators from Disability Justice and Intersex Justice come together for a virtual conversation about their work, our future, and what collective liberation looks like.



PANELISTS:
Carlos Rios-Espinosa

, Mexico City based disability advocate and researcher with Human Rights Watch, Disability Rights Division

Koomah

, Houston-based artist, performer, filmmaker, educator, and legislative policy advisor

Syrus Marcus Ware

, Toronto-based visual artist, community activist, researcher, and educator


Sean Saifa Wall

, Atlanta-based artist, filmmaker, and public health researcher

MODERATOR:
Bianca I. Laureano

, Oakland-based award-winning educator, curriculum writer, and sexologist
Stonewall Generation
Discussion Guide
Skinner House is excited to announce a new discussion guide for
The Stonewall Generation: LGBTQ Elders on Sex, Activism, and Aging
by Jane Fleishman.
Designed specifically for congregations, this discussion guide can help communities become more LGBTQ elder
-
inclusive. By discussing the themes each of these courageous elders raises, communities can promote the strengths of LGBTQ elders by hearing their stories of courage and activism and inspire current and future generations to speak out against oppression.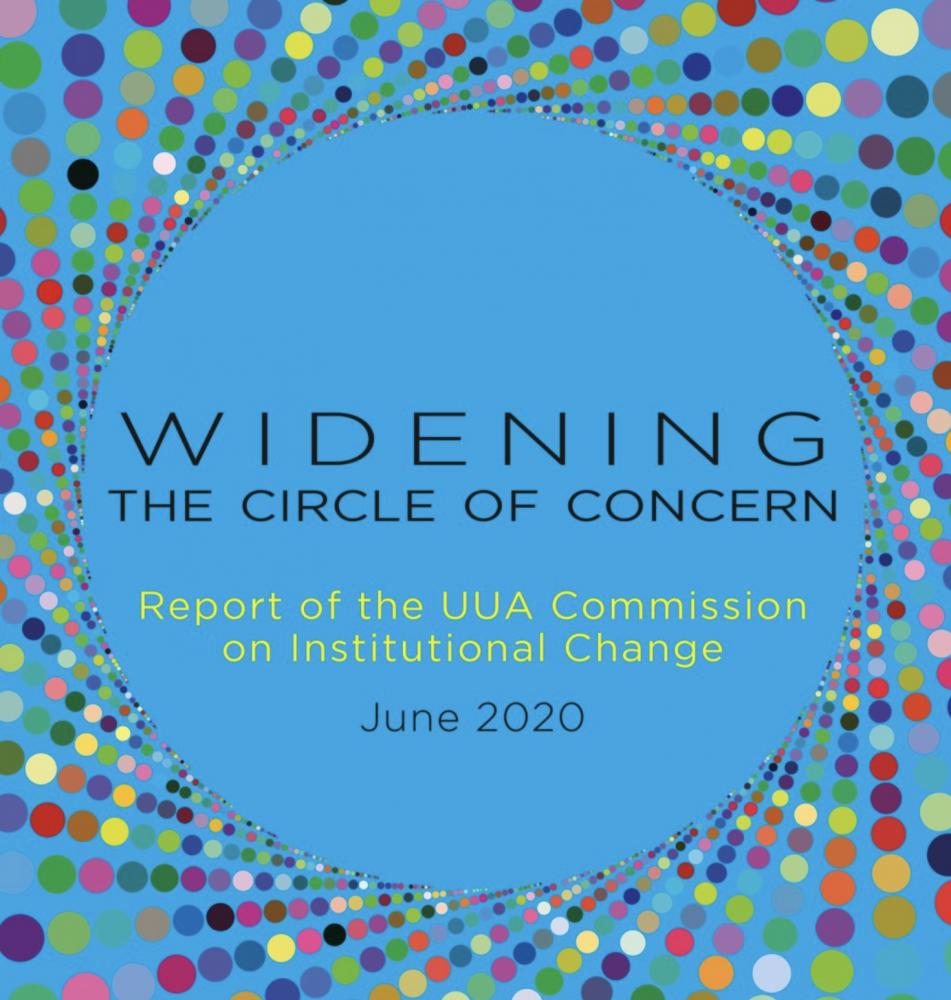 Widening the Circle of Concern:
Study/Action Guide

We're excited to announce the release of a Study/Action Guide to the
Widening the Circle of Concern
report! Many of you are looking for ways to bring the hard work and findings of the COIC into the life of your congregation or UU community. This new guide provides 11 session outlines for a group or task force in your congregation to break down the various components and recommendations of the original report.


Support UUA LGBTQ+ Ministries
Each of us has worth and dignity, and that worth includes our gender and our sexuality.
As Unitarian Universalists we not only open our doors to people of all sexual orientations and gender identities, we value diversity of sexuality and gender and see it as a spiritual gift.
Your support

helps keep our LGBTQ Justice and Public Witness work active and vibrant, as well as deepening our Welcoming Congregations program.
| | |
| --- | --- |
| | sent to: mcrumpler@uua.org |