| | |
| --- | --- |
| News and updates from the Central East Region of the UUA to keep your congregation informed. | Email not displaying correctly? |
Opportunities for Connection


CER Update
~ December 2019
December 2 is

Giving Tuesday

. We encourage you to give as generously as you can to the charities and organizations that are meaningful to you. Consider supporting the work of the

UUA

,

UUSC

or

Faithify.org

. You may also consider the many projects that

Faithify

has open.
| | |
| --- | --- |
| | Featured Resource: Conversations for Liberation |
Unitarian Universalism is at a moment of great power and potential. We are making progress toward becoming a faith movement where people of all backgrounds and identities can thrive to challenge systems of oppression, patriarchy and white supremacy. While we move forward, we recognize that meaningful change is hard, especially when it touches on issues of power and identity.

In the summer of 2019, a group from UUA staff and other UU organizations began meeting to address conflicts arising in Unitarian Universalist communities around the call to dismantle white supremacy in our faith movement. Meetings led to a framework and

an invitation for Unitarian Universalist faith communities

to engage in broad, shared discussion: How will we move our faith forward toward greater justice?

Every UU congregation and community is encouraged to set aside time for small group listening and sharing.

A new

Discussion Guide for Congregations

introduces the Conversations for Liberation framework. The guide is based on questions prepared for small groups at the 2019 General Assembly to discuss "The Power of We," the GA 2019 theme. The guide leads each local UU community to engage faithfully. After holding a discussion, congregations and UU groups are invited to share their discernment on the future of our faith with the wider Association

.

Learn more at the UUA Website

.
Introducing CER Resource Pages: Leadership Development
The Central East Region has a number of resource pages on a variety of topics important to congregational life. These are "top suggested resources" prepared by the program manager for that area. Each month we'll be highlighting one of the pages.
Up this month -
Leadership Development
. This resource page is managed by Rev. Renee Ruchotzke.


From the page: Many congregations only think about developing new leaders around the time that the nominating committee is looking for potential board members. Instead, I recommend that congregations see leadership development as part of an arc of faith development that includes not just leadership skills, but also leadership sensibilities and faith development. See below for a list of competencies and resource pages.

Learn more at the CER website.
Join us for this year's winter programs
Looking for programming for this spring? We have a wide variety to offer you.
Money Mythbusters: An Online Stewardship Conference
will be January 25, 2020. This is an all day online conference featuring Elizabeth Terry, UUA Giving Specialist as the keynote speaker. One low rate for as many folks in your congregation to attend!
Registration is now open
.
Winter Institute
is a relaxing weekend gathering for UUs of all ages. There are frosty outdoor activities like sledding, hiking and cross country skiing. For those who choose to stay in their slippers all weekend, there is a beautiful lodge with its many cozy corners and fireplaces. Join us at Salt Fork State Park in Cambridge, OH February 14-17, 2020 (President's Day Weekend).
Registration is now open.
Jubilee Anti-Racism Training
helps participants understand what is involved in nurturing a multicultural community and working against racism in all of its forms.

The workshop requires a weekend commitment; and it is worth every minute of that commitment.
There are several offerings of this training being planned around the region this winter and spring. Current dates are:
January 17-19, 2020, All Souls in Washington DC,

Registration is open

March 27-29, 2020, UUs of Delaware County, Media, PA,

Registration is open

April 10-12, 2020, First Unitarian Church of Rochester, NY
An additional date in May is currently being considered.
Additional youth trainings, cluster events, Beyond the Binary, the Annual Seaway Gathering and more are being added to
our calendar
every day, check it out and see what programs interest you!
The Central East Region is Hiring!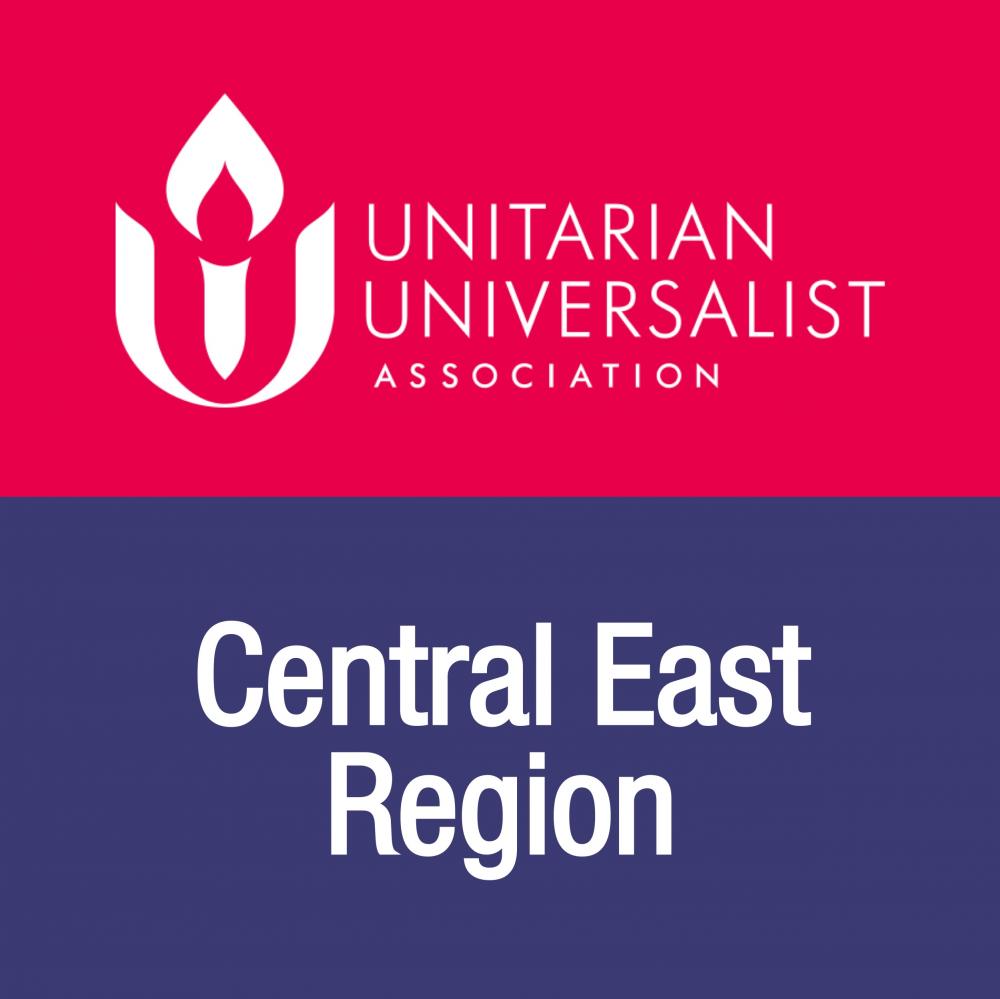 With Paula Cole Jones completing her interim time with the region in June, we will be beginning the search for a Congregational Life Field Staff person in the new year. Start date will be Summer of 2020.

We are looking for someone who is energetic and passionate about congregations., with excellent relational and communication skills. This position will be a primary contact to about 40-50 congregations and will not hold a specific program portfolio.

This staff person will be responsible for serving congregations in the eastern part of the

region: central,

northeastern and southern Maryland, Delaware, Central Pennsylvania, southeastern New Jersey and eastern New York

. Exact congregational assignments will be determined after hire and are somewhat flexible.

Residency in this area strongly

preferred.

You do not need to be ordained for this position.

The full job description can be found on the

UUA website

. Please contact Regional Lead Rev. Megan Foley to learn more or ask questions.
General Assembly 2020 - Rooted, Inspired, Ready!
General Assembly 2020

will take place June 24-28, 2020 in Providence, RI. This year's theme is

Rooted, Inspired, Ready!

GA will delve into our theological and historical roots, bringing those threads into the present day and acting in solidarity with Indigenous communities.

Attendees will be inspired and trained to engage in electoral work as people of faith, living out our values in service of all our intersecting justice commitments.



Early bird registration is open! New this year: Use the Early Bird Payment Plan to pay down your GA registration over time (initial payment of $50 required; final payment due February 29). Visit the

GA Registration page

.
Better Together Blog: The Season of Gratitude
by Rev. Dr. Hope Johnson
"Everyone wants to feel appreciated. For many, appreciation is just saying thank you. But appreciation only begins with saying thanks. True appreciation is not only recognizing someone's
excellent efforts
and contribution. The term actually means "to recognize and enjoy" a person's value or good qualities. It means showing respect and understanding as well as gratitude. "
                        from
Nine Ways to Show Appreciation
by Kevin Daum
As we enter into the season of gratitude, this "savoring" time that leads to the Harvest, I find myself thinking of the nuanced differences between appreciation and gratitude. Although I, like so many of you, want to do "the work," I know that it is not always easy to savor this life that I have, the life that we each have, as well as these lives that we share.
Read the rest of the article
Wildfire season is upon us, with more than a dozen wildfires impacting California right now. This summer saw flooding impact several congregations. Your generous donation to the

UUA Disaster Relief Fund

will help provide UU congregations, their people and their communities, with the tools they need to recover when they are impacted by disasters like these.

Donations from individuals and congregations gratefully accepted

.




Are you a Facilitator for the current Young Adult and Adult level of the Our Whole Lives curricula? Current Young Adult and Adult level OWL facilitators can be "grand-parented" into approved status to facilitate OWL for Older Adults by attending a free, one-hour webinar. Attend one of the two live webinars or watch the recorded version at a later date. Facilitators must submit proof of attendance (clues gathered during the webinar) prior to a change in their approval status. No pre-registration required.  Dec. 2, 1-2 pm EST or Dec. 3 8-9 EST. The webinar will be at

https://zoom.us/j/7819102883



Are you a member of LREDA, AUUMM or the UUMA? Here is your opportunity to take the

Transforming Hearts Collective course

with your peers. Learn more

at their website

.

The Office of Church Staff Finance is updating the UUA Compensation Guidelines. Beginning in early 2020, the

UUA Compensation Standards

will include not only

recommendations

for salary and benefit levels, as we have provided all along, but also a checklist of legal

requirements

relating to payroll and benefits. For those of you making use of the

Benefits Tune-up Workbook

, the benefits sections of the checklist will dovetail nicely with the work you are already doing. (We're refining the Benefits Tune-up Workbook slightly and plan to reissue it in February.)

To learn more about these updates see the

Compensation and Staffing News issue for November

.


Interested in Faithify.org but don't know where to start? Project Manager Halcyon Westall is now holding

open office hours

on Tuesdays from 2-3 pm ET. Bring your questions, get help with your draft campaign, or just say hello at this informal meeting on Zoom. Here is the link:

https://zoom.us/j/248451027

or meeting ID: 248 451 027


UU College of Social Justice has two immersion programs for those interested:

Are you eager to deepen your understanding of

feminist leadership and root causes of migration

? Are you an organizer or religious leader ready to take your work a step further? Join UUCSJ March 5-11, 2020 for our next delegation to Honduras! Learn more and register by January 6th at

UUCSJ.org/honduras-por-la-vida/

Defend the Human Rights of Migrants!

At a time of deepening crisis for immigrants and asylum seekers, the UU College of Social Justice has organized an immersion experience specifically for religious professionals. This journey will help you deepen your understanding of the migration crisis and will support your justice ministry with theological reflection among colleagues. Our spring  

Border Witness journey to Tucson, AZ

, will be April 13-17, 2020, and will be led by UUSC President Mary Katherine Morn. Generous scholarship aid is available for religious professionals and seminary students.

We are happy to announce there is a new

WorshipWeb App!

There's much to explore on this gorgeous app, which a team of us at the Unitarian Universalist Association have been creating for you for many months.

You can find it on the App Store and the Google Play store.

Looking for ideas for holiday gifts? Don't forget

InSpirit, the UUA Bookstore

. They have a variety of books from a variety of publishers and have gift items such as cards, UU and Side with Love clothing and more. Check out their

holiday guide

.

New publications from the UUA -

Now available from Skinner House Books is

In Time

'

s Shadow: Stories About Impermanence

by Rev. Marilyn

Sewell

and

Scripture Unbound: A Unitarian Universalist Approach

by Rev. Jonalu Johnstone and available for pre-order,

Our Whole Lives: Sexuality Education for Older Adults

by Melanie Davis

.

If you are part of the Goodreads Bookclub, December

'

s read is

Being Both: Embracing Two Religions in

One Interfaith Family

by Susan Katz Miller (Beacon Press)

.
The UUA is hiring for several positions. Find job descriptions and application information at their

Job Openings

webpage.
The following events are upcoming in the region. For full details and a complete list visit the

CER Calendar Page

. Also, please note, if you are mailing a check to pay for your event to us,

you must write the name and date of the event in the memo line

. Otherwise we may not get it properly credited.


Elementary Our Whole Lives Training of Facilitators ~ Cherry Hill, NJ ~ December 6-8, 2019

UNY Fall Youth Adult Committee Meeting ~ Syracuse, NY ~ December 6-7, 2019

OM Winter Youth Adult Committee Meeting ~ North Royalton, OH ~ January 10-11, 2020

UNY Youth Leadership Conference ~ Syracuse, NY ~ January 10-12, 2020

Resilience: Leadership Development for the 21st Century ~ Oakton, VA ~ January 11, 2020

Jubilee Anti-Racism Training ~ Washington DC ~ January 17-19, 2020

Activate! Shared Ministry Day ~ Buffalo, NY ~ January 18, 2020

Money Mythbusters: An Online Stewardship Conference ~ January


MNY Youth Adult Committee Meeting ~ January 25, 2020

Fundamentals of Healthy Youth Ministry Part 1 ~ North Royalton, OH ~ January 25, 2020

Fundamentals of Healthy Youth Ministry Part 2 ~ Cherry Hill, NJ ~ February 1, 2020

Beyond the Binary ~ Syracuse, NY ~ February 7-9, 2020


Winter Institute ~ Salt Fork State Park, Cambridge, OH ~ February 14-17, 2020

OM Winter Youth Conference ~ Pittsburgh, PA ~ February 21-23, 2020

UNY Youth Conference ~ Albany, NY ~ February 28-March 1, 2020

The following webinars will take place in the region the next two months. For full details and a complete list visit the
CER Webinars Calendar
.
Congregation, Cluster and Affiliate Groups News and Events
This work is made possible by the generosity of member congregations and individual donors. 

Sent to: _t.e.s.t_@example.com

Central East Region of the UUA, 100 W 10th Street Suite 1008, Wilmington, DE 19801, United States